Men's doubles team Sepak Takraw from East Java wins gold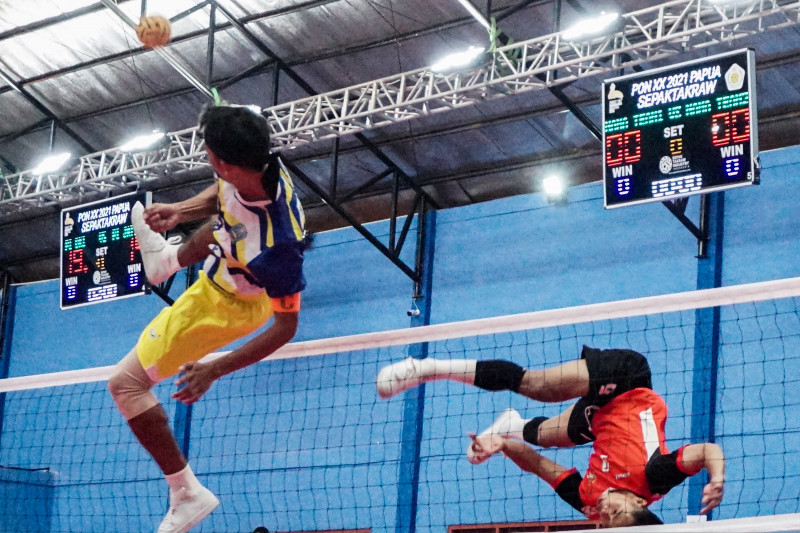 Thank you to all the athletes who competed so much. The point is that all this achievement is due to the unity and solidarity of the players.
Jayapura, Papua (ANTARA) – The East Java contingent's sepak takraw men's team bagged a gold medal at Papua National Sports Week (PON) XX after beating South Sulawesi, 2-1, in the final held at the sports arena in Trikora (GOR), here, on Wednesday.
This result leveled the province after being left out in the national game as it only won a silver medal in the same discipline.
The athletes, coached by Muhammad Khatib, were left behind when Syamsul Hadi and Dedi Setiadi Suryo directly lost two sets 16-21, 15-21, to South Sulawesi pair Muhammad Hardiansyah Muliang and Rusdi.
Hari Budianto and Syaiful Rijal then turned things around by winning the second set, 21-16 and 21-13, against the pair: Andi Tri Sandi Putra and Nofrisal.
Related news: Puspa, the flower of Pencak Silat from Indonesia and the hope of Jakarta in PON
A 1-1 draw saw them play the third set where East Java deployed Jimmy Kartika and Abdul Muin and South Sulawesi paired Diki Apriadi and Muh. Ruswan Wajib.
The first set of the third group was played until they held a brace, and South Sulawesi was able to pocket points as Abdul Muin's cross-smash failed to score points and ended the game. , 23-25.
In the second set, East Java was able to pick up points quickly when Apriadi failed to tackle Muin's smash, and the match ended 21-13.
East Java's winning momentum continued through to the deciding set, despite a close struggle. Muin and his team won a gold medal after Apriadi's service kick failed to pass the net, and South Sulawesi Group III lost the third set, 17-21.
Related News: Papua Climbing Pair Wins Gold Medals at XX PON
South Sulawesi had to settle for a silver medal, while Jakarta and Papua pocketed a bronze medal as they were stopped in the semifinals.
"Thank you to all the athletes, who competed a lot. The point is, all of this accomplishment is down to the unity and unity of the players, "East Java men's sepak takraw coach Khatib told ANTARA after the match.
He said East Java's sepak takraw team aimed for two gold medals from the men's team, including the men's quadrant.
Related News: Papua PON Organizing Committee Ensures Preparation For Opening Ceremony
Related News: PB PON urges Papuans to use and enjoy sports facilities